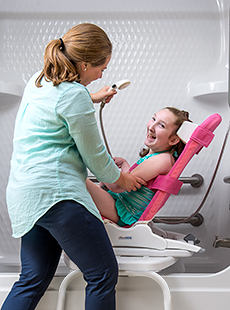 The new Wave system makes showering and bathing simpler for both client and caregiver.
Acting on valuable feedback from therapists and caregivers, the new bath chairs are wider to allow for larger clients. Deigned with generous padding under soft knit fabric for improved kin protection.
The bath chair mounts easily on a tub stand, rolling shower stand, or tub transfer base changing the way you transfer and bathe large clients. Unique in the industry.
Extra wide seat with open sides, 15″ width for small and medium, 17½" for the large.
Large size for adults up to 6'2″ and 250 lbs.
Completely configurable; all sizes of the Rifton Wave can fit on any of the 3 base options.
Optional calf rest adjusts independently of seat and back angle.
Tub transfer base enables users – after being placed in the bath chair using a mechanical lift – to be rolled back and then rotated over the tub for showering.
Conversion kit allows user to economically move up from small to medium size with purchase of a new back, seat and cover.
A small investment compared to assisted living or remodeling  and widely preferred over bed baths.