Makes it easy, even for clients without weight-bearing ability.
Engaging in social activity is more rewarding for individuals with disabilities when participating happens in an upright and mobile posture. The Rifton Mobile Stander, a mobile prone stander, can bring your client the independence and upright mobility he or she has been longing for.
Wheelchair- bound?
The Mobile Stander promotes critical motor skills enabling a user to progress toward independent standing.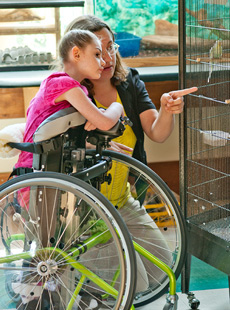 Freedom to be more involved and explore
Large wheels allow the client to self-propel in a standing position enabling them to explore their environment with, (and even ahead of!), their classmates. Take off the large wheels and the Mobile Stander easily rolls closer to a table or a counter enabling greater involvement in activities of work and play.
Dynamic skillbuilding
Ongoing use of the Mobile Stander opens up their world to strengthening motor skills and encouraging independent standing.
NOTE: This product was formerly the Rifton Dynamic Stander.