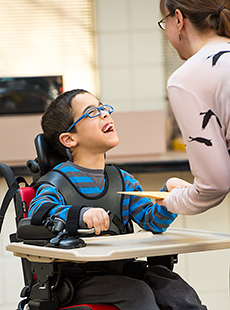 The Rifton family of Anchors will attach to any clean smooth horizontal surface giving your students, clients, or family members that little extra edge and stability.
Choosing the optimal hand grip and arm support will add needed support for people with disabilities. Stabilizing one arm helps increase upper body control allowing activities of daily living to become more manageable and more successful.
Confident and proven support with positive suction cup mounting that can be quickly relocated with the use of the release lever. They can be placed effortlessly on any clean, smooth, horizontal surface, and are convenient for use on wheelchair trays, stander trays, or table tops.
Lightweight, travel friendly, secure, and positive suction placement, they fasten instantly to any smooth, clean, horizontal surface, even stander trays and wheelchair trays.
No need for fasteners or clamps, the grab bar Anchors can be located easily wherever and whenever a client needs it.
Work, play, and developing self-supporting skills are so much easier with an Anchor.
Continued use of an Anchor, or a pair of anchors, can aid in improving neck, head, and upper trunk stability.
Promotes an independent and successful living and work environment.